The CIPD Trust 
Tackling barriers to work and creating inclusive workplaces through the power of the people profession.
Get in touch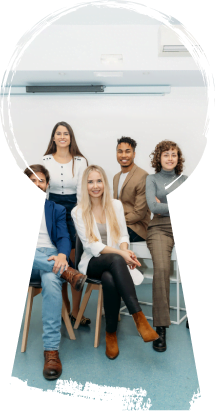 When you put people first, everyone stands to gain
When we tackle the barriers to work and create inclusive workplaces, we give more people the power to learn, contribute and progress. We equip them to unleash growth, talent and productivity in their organisations, and we create the conditions for a more prosperous society.

People professionals are uniquely placed to make this happen. With roles covering Human Resources, Learning and Development, and Organisational Design, they are the experts in people, work and change. That's why the CIPD – their professional body – has championed better work and working lives for over 100 years.

We harness the power of the people profession – its expertise in recruiting and mentoring, developing and people strategy. Our work gives CIPD members and professionals across our 160,000-strong community the opportunity to do much more with their experience; to reach out to those who need support getting into and navigating the workplace, and to give back by driving greater diversity at all levels in the people profession.
We're here to connect people professionals, leaders, organisations and partners to make a difference for those facing the biggest barriers to good, fair, inclusive work.

How we help
Many of our programmes help people get into work, return to work, and make their contribution in work that's right for them. Others support people from all backgrounds to develop in the people profession. With the experience of our community of people professionals, we focus on those who face greater challenges in the workplace.
I didn't know what an employer expected. I'd listed skills, but Samantha explained that I needed to show what I'd learnt from my experience and that's what I had to get across. My CV was really improved by working with my mentor. I went over it with a fine-toothed comb. 

– Luke, graduate jobseeker 
Share your expertise in championing good work
As an expert in the recruitment process, who knows what employers look for, you can help someone navigate their way into good work, step by step. Who better to give a young jobseeker the inside track on the practicalities – job search, CV, application and interview skills? 
The difference we make
Discover the difference we make and the insights we share 
City and Guilds Foundation
Refugees are often highly qualified in their own countries. But they have some of the highest rates of unemployment in the UK. The City and Guilds Foundation supports our bursaries for refugees looking to gain CIPD qualifications or transfer their experience.  
How you can help
If you're in the people profession, a current member or a potential partner, together we can do more to tackle barriers to work. We're here to help you make a difference.